Thank You and Happy Holidays!
As the holiday season is approaching and the year is coming to its end, I would like to say thank you to all of you for the time we have spent together and the experiences we have shared this year. I have met so many wonderful people and I truly feel I am part of a community here. For that I am truly grateful.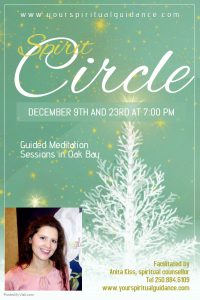 This month the meditation sessions will be on the 9th and 23rd. Our start time is 7:00 pm. We open with a brief healing meditation leading into a guided meditation, followed by a discussion about any spiritual areas of interest. Please feel free to arrive 10-15 minutes earlier and enjoy a cup of tea before we begin. The address is 479 Monterey Ave and the price is $20 per person. Please let me know beforehand if you are planning to attend a session.
Starting in January, I will be introducing private meditation sessions as a new service. I've been holding these sessions with a few people in the past couple of months and they will be offered to anyone who is interested in the coming year. They will be complementing the group sessions that are held bi-weekly.
In addition, I will be launching the Spirit Circle Appreciation Program in January 2017! You will find more information on these new initiatives in my January newsletter.
This year has brought me many surprises, some heart-warming and some challenging, but in the end they have all helped me realize that my dream to offer a forum in Victoria where kindred spirits can meet and enjoy a few hours of relaxation and conversation together while becoming more connected with spirit is absolutely worth pursuing. Thank you for your continuing interest!
I wish all of you a very Merry Christmas and a joyous New Year filled with health, happiness and amazing new adventures!
With love and gratitude,
Anita