After a wonderful three-week vacation with my family in my homeland, I'm resuming the Spirit Circle in July. Being re-energized and filled with fresh perspectives, I'm welcoming those who would like to attend the sessions with an open heart.
In July, the Spirit Circle will be held on the 8th and 22nd.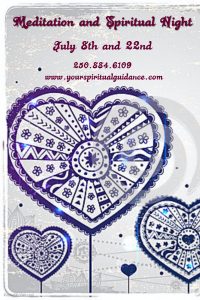 Our start time is 7:00 p.m. but please feel free to arrive earlier and enjoy a cup of tea before the meditation starts.
Each session lasts 1.5 – 2 hours, depending on the size of the group and the topics of interest.
Address: 479 Monterey Ave, Victoria BC
Price: $20/person
The Spirit Circle is not a course; it is rather an open group where like-minded people have an opportunity to meet two or three times a month. It is a group for anyone interested in meditation and practicing their evolving intuitive abilities.
It provides an opportunity for you to relax, rejuvenate and re-energize your body, mind and spirit. We open with a brief healing meditation leading into a guided meditation, followed by sharing messages from the spirit world among the group, as well as discussing any spiritual areas of interest.
Please email or call me if you are planning to attend. Space is limited; therefore, if you have to cancel I kindly ask that you let me know beforehand so that I can offer the seat to someone else. Thank you.
With love,
Anita