Hello Fall!
I hope everyone had a wonderful summer. I did have an amazing summer with my family in Hungary. It helped me to relax and re-energize on many levels. It was even more heart-warming to see how much my children enjoyed those weeks and what it meant to my family to be able to spend this much time with them.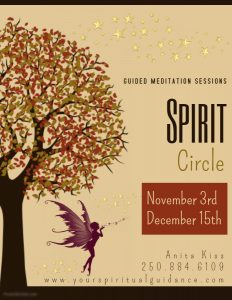 Fall is a wonderful season in Victoria. I enjoy every aspect of it; the beautiful sunshine, the amazing colours, the warm weather, as well as the cool rainy days. The sunshine always invites me for long walks and contemplation while the rain proposes to spend some of the best times inside by the fireplace with a good book and a nice cup of tea.
I am planning to hold two more Spirit Circles this fall, one on November 3rd and another one on December 15th. Our start time will be 6:00 p.m.
Please let me know beforehand if you'd like to attend the sessions. And please bring your appreciation card with you if you have one. I know some of you have attended enough sessions to have a free one!
Kind regards,
Anita